Weekly Newsletter January 2015
Submitted by

LaVita

on Tue, 01/06/2015 - 00:00
Message from the Board
2014 was a great year for La Vita. We moved forward with our construction phase of our settlement with the developer - completing several major corrections such as cooling towers for the tower and mid-rise, courtyard drainage and several plumbing issues. Our next projects will include the waste line replacement, pool area upgrade and several items that we have identified on our prioritization list. The majority of our settlement items will help assure that we have less frequent flood damage due to inadequate plumbing that creates major inconveniences as well as unbudgeted expenditures. Please support us during 2015 as we complete these projects as some will require access to our units.
Speaking of our financials, 2014 continued to see us manage our expenses so that we could add to our reserve funding. We will end this year near $1M which is an increase of 100% over the last two years. Going forward, we will need to continue our collective due diligence to bring our reserve funding to an even higher level.
I hope you see that your Board of Directors, along with the excellent support of our Property Manager Sabrina Afkhami, continue to manage our operations to improve the quality of La Vita life for all residents while keeping us financially sound. The comments from our neighbors indicate that we are setting the bar in Little Italy for a clean and safe building that makes us proud as well as helps to increase our property values. Our engineering, cleaning, security, maintenance, and landscaping team members all reflect our pride in La Vita with their dedicated support of our building and residents.
On behalf of your BoD and support teams, I want to wish everyone Happy Holidays and a Prosperous 2015.
New Year's Resolution, get involved by volunteering for a committee. We are always looking for new/fresh ideas to improve La Vita. Contact Sabrina if you are interested.
Felice Anno Nuovo!
Ken Henehan
La Vita Board of Directors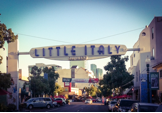 Little Italy News
Dog Park
The San Diego Unified School District and the Little Italy Association have entered into an agreement to split the field at Amici Park (at Date Street) and fence the southern half to use as a permanent dog park.
An historic home has already been moved to the Amici Park area and will be converted to a public restroom.
Officials plan to open the park prior to 2020.